thumb|300px|Cookie Monster sings "Healthy Food."
thumb|300px|Wyclef Jean and Cookie Monster sing about "Healthy Food."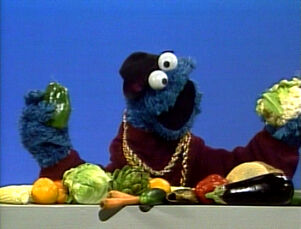 In this spoof of Run–D.M.C.'s version of the Aerosmith song "Walk This Way," Cookie Monster rhymes about the importance of eating more than just cookies. In the original version of the song, Cookie Monster is backed up by the Fly Girls, a group of Singing Food comprised of a pineapple, an apple, a loaf of bread, a pear, and a stalk of broccoli.
More recently, Cookie Monster performed a version of the song with Wyclef Jean. (First: Episode 4085)
"Healthy Food" was also included in the Sesame Street Live shows "Super Grover! Ready for Action" and "Elmo's Healthy Heroes!".
Releases
Audio
Video
Online
See also