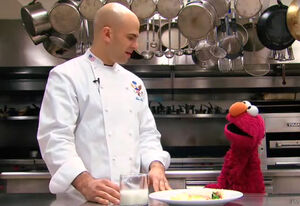 The Healthy, Hunger-Free Kids Act of 2010 is a federal statute signed into law by President Barack Obama on December 13, 2010.
To help promote the initiative, The White House produced a video in which Elmo visits The White House kitchen. He joins White House Chef Sam Kass to talk about the importance of healthy and delicious school meals following President Obama's signing of the Act. The video was released on the White House's official website and on the White House's official YouTube channel.
External links
Ad blocker interference detected!
Wikia is a free-to-use site that makes money from advertising. We have a modified experience for viewers using ad blockers

Wikia is not accessible if you've made further modifications. Remove the custom ad blocker rule(s) and the page will load as expected.