Ad blocker interference detected!
Wikia is a free-to-use site that makes money from advertising. We have a modified experience for viewers using ad blockers

Wikia is not accessible if you've made further modifications. Remove the custom ad blocker rule(s) and the page will load as expected.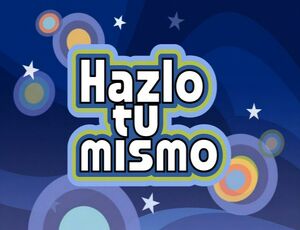 Hazlo Tu Mismo (You Do It the Same) is a recurring segment from Plaza Sésamo, debuting in the 2005 season. The segments are hosted by Abelardo, who has his friends perform various activities with him, such as putting clothes or playing games. Frequent guests are Manuel, Daniela, Lola and some Multimonstruos and Multimuppets.
Unlike the other recurring segments that debuted in 2005, this one only lasted for one season.

Segments
| Picture | Activity | First Appearance | Description |
| --- | --- | --- | --- |
| | Tying Shoelaces | Episodio 799 | Abelardo and friends teach how to tie shoelaces. A girl has a problem, however; how does one tie slippers? |
| | Hide and Seek | Episodio 803 | Abelardo, the kids and a Multimonstruo play hide and seek. |
| | Brushing Hair | Episodio 811 | Abelardo and the kids show the different things they use to brush their hair with. |
| | Bubbles | Episodio 822 | Abelardo and the kids blow bubbles. |
| | Balls | Episodio 832 | Abelardo and friends play with balls and teach a monster how to bounce one. |
| | Raincoat | Episodio 838 | Abelardo introduces Manuel, who shows how to button your raincoat. |
| | Making Music | Episodio 840 | Abelardo introduces Lola and some kids who make music my hitting various objects. |
| | Collage | Episodio 847 | Pancho and Abelardo teach the children how to make a collage. |
| | Block Tower | Episodio 850 | Abelardo and the kids count up to 5 while making a tower from blocks. |
| | Dancing | Episodio 855 | Abelardo and the kids dance. |