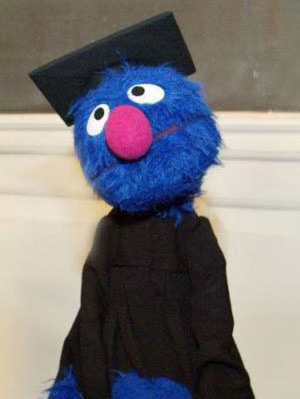 Harvard University is a private university in Cambridge, Massachusetts. Founded in 1636, Harvard is the oldest institution of higher learning in the United States.
Jim Henson and Kermit the Frog gave a lecture in Harvard's Sanders Theatre on June 7, 1982.[1] The speech was written by Henson, his daughter Lisa (the first female president of the Harvard Lampoon),[2] and fellow Lampoon writer Jay Itzkowitz. Kermit imparted some wisdom from his unique frog perspective, "Now you are just a small fish in a small pond. Soon you will be the big fish in the big pond. And I know what it's like; I know what big fish are." He added, "As you set sail on the great vacation of life, think of Harvard as your travel agent."[3]
On February 8, 2005, Professor Grover visited Harvard University for a news conference announcing a new HGSE course, "Informal Learning for Children."
References
Sources
↑ The Jim Henson Company Archives 6/7/1982 – Kermit the F. lectures at Harvard then fly to London- mix D.C.
↑ The New York Times "At Harvard, She Rules Lampoonland" by Judy Klemesrud, May 16, 1982
↑ The Muppet Show Fan Club Newsletter volume 3 number 6
Ad blocker interference detected!
Wikia is a free-to-use site that makes money from advertising. We have a modified experience for viewers using ad blockers

Wikia is not accessible if you've made further modifications. Remove the custom ad blocker rule(s) and the page will load as expected.