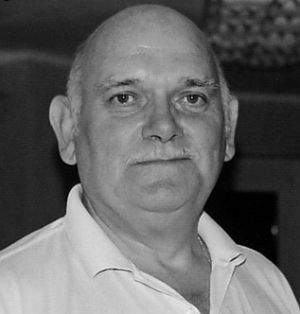 Hartmut Neugebauer (b. 1941) is a German voice actor who has been heard in several Muppet/Creature Shop dubs, notably as the German voice of Animal in nearly every project since 1992. Neugebauer's daughters, Veronika and Miryam, were heard in the German dub of Bear in the Big Blue House.
Neugebauer's other dub credits, usually as supporting character actors, include John Goodman in most everything he has done, Robbie Coltrane in the Harry Potter films, William Shatner in Boston Legal, Christopher Lloyd in One Flew Over the Cuckoo's Nest, Paul Dooley in Runaway Bride, Charles Durning in Sisters, Leslie Nielsen in Scary Movie 4, Elliott Gould in Harry and Walter Go to New York, Jon Polito in Miller's Crossing, and Burt Lancaster in Little Odessa.
His animation dub roles include Nanny on Count Duckula, Baron Greenback on Danger Mouse, Scuttle in Disney's The Little Mermaid, Alameda Slim in Home on the Range, and the Roman centurian in the Asterix films. For Pixar, Neugebauer has voiced Mr. Potato Head in Toy Story and Toy Story 2, and John Ratzenbergers' roles in The Incredibles (Underminer), Cars (Mack and others), and Ratatouille (Mustafa).
Muppet/Henson dub credits
Die Muppets Weihnachtsgeschichte (The Muppet Christmas Carol): Ghost of Christmas Present, Old Joe, Animal
Muppets Tonight: Animal, John Goodman
Muppets aus dem All (Muppets from Space): Animal
Studio DC: Almost Live - Extended Edition: Animal, Beaker, Bobo the Bear, The Swedish Chef, Waldorf
Die Muppets: Animal, Beaker, The Swedish Chef, Waldorf