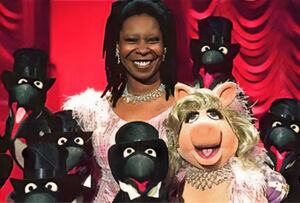 The Harry Winston Diamond Corporation, or Harry Winston as it is more commonly referred to, is a Toronto, Canada specialist diamond mining and retail company named after the famous jeweller, Harry Winston. Among Winston's most famous jewels were the Hope Diamond and the Portuguese Diamond, both of which are now on display at The Smithsonian Institution.
For the Muppets Tonight number "Diamonds Are a Girl's Best Friend," Whoopi Goldberg and Miss Piggy were adorned in jewels from the Harry Winston Diamond Corporation.[1]
Sources
External links
Ad blocker interference detected!
Wikia is a free-to-use site that makes money from advertising. We have a modified experience for viewers using ad blockers

Wikia is not accessible if you've made further modifications. Remove the custom ad blocker rule(s) and the page will load as expected.