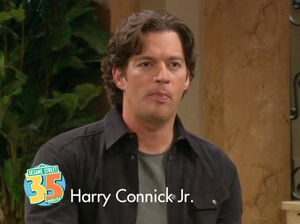 Harry Connick, Jr. (b. 1967) recorded a My Favorite Sesame Street Moments segment for Sesame Street Season 35. He talked about a scene where all of the characters are sitting on the brownstone steps in the special Sesame Street: 20 and Still Counting, and how it represents people from all walks of life, and how it shows that everyone is important and despite our differences we can be friends. The segment aired before Episode 4080.
Harry appeared, ostensibly to play a song from his Christmas CD, on the November 13, 2008 broadcast of The Today Show ("The Muppets Take Over Today"). He was interrupted part way through, as the actual Today hosts retook the show from their Whatnot counterparts.
Trivia
External links
Ad blocker interference detected!
Wikia is a free-to-use site that makes money from advertising. We have a modified experience for viewers using ad blockers

Wikia is not accessible if you've made further modifications. Remove the custom ad blocker rule(s) and the page will load as expected.