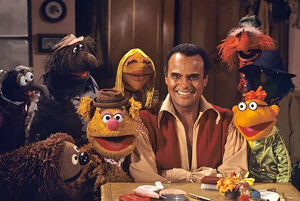 Harry Belafonte (b. 1927) is an American singer, actor and humanitarian. He popularized the calypso movement in the mid-1950s with hits such as "Banana Boat Song (Day-O)," "Jamaica Farewell" and "Mama Look at Boo-Boo."
Belafonte has appeared with the Muppets on numerous occasions.
Appearances
References
In the Elmo's World episode "Bells," Belafonte is spoofed as Harry Bell-afonte in an animated segment.
External links
Ad blocker interference detected!
Wikia is a free-to-use site that makes money from advertising. We have a modified experience for viewers using ad blockers

Wikia is not accessible if you've made further modifications. Remove the custom ad blocker rule(s) and the page will load as expected.