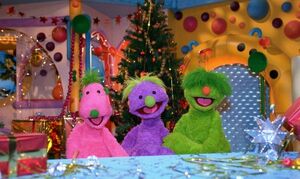 Happy Hooby Holidays is a 6-hour television marathon of The Hoobs that aired on PBS Kids Sprout on December 25, 2006 in order to kick off the U.S. television debut of The Hoobs.
The 12 episode marathon was hosted by Tula and Groove, who appeared in newly recorded interstitials, bumpers and introductions as they discuss the show, the episodes and the holidays.
The 6-hour marathon special re-aired on New Year's Day, January 1, 2007.
Airings
December 25, 2006: noon-6pm EST on Sprout
January 1, 2007: noon-6pm EST on Sprout
Episodes
059 - Dancing
065 - The Band
041 - Puppets
015 - Seasons
019 - Presents
021 - Clapping
212 - Hooby Races
054 - Fancy Dress
161 - Fairyland
083 - Colours
005 - Stars
050 - Dreams
External Links
Ad blocker interference detected!
Wikia is a free-to-use site that makes money from advertising. We have a modified experience for viewers using ad blockers

Wikia is not accessible if you've made further modifications. Remove the custom ad blocker rule(s) and the page will load as expected.