| | |
| --- | --- |
| Music by | Milton Ager |
| Lyrics by | Jack Yellen |
| Date | 1930 |
| Source | movie King of Jazz |
| Publisher | Warner Bros., Inc. |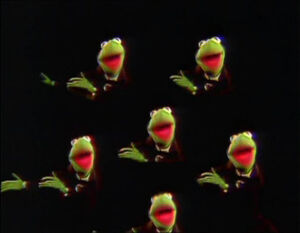 In episode 209 of The Muppet Show, Kermit says that he's gotten a lot of letters asking if he can tap dance. In response he sings and dances to "Happy Feet". Ironically, the audience never sees his feet during the number. Instead multiple Kermits are seen on the screen at the same time, but all from the waist up.
Audio releases
Video releases
Other
It was performed with full body Muppets for The Muppet Show: On Tour!, and in Muppets on Location: Days of Swine and Roses.