Music by
Patty and Mildred Hill
Lyrics by
traditional
Date
1893
Source
original words were "Good Morning to All"
Publisher
Summy-Birchard Inc.
Warner Chappell Inc.
The classic birthday song "Happy Birthday to You" was used on Sesame Street, The Muppet Show, Mother Goose Stories, Dinosaurs, and The Wubbulous World of Dr. Seuss.
The Muppet Show
Animal sings the first line of the song while on The Tonight Show, after Bernadette Peters mentions her birthday.
Sesame Street
International Sesame Street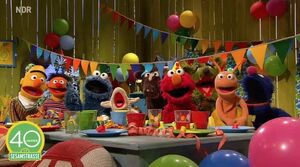 In Eine Möhre für Zwei episode 9, Wolle and Pferd was taught how to play the song together by Wolf Kerschek and the NDR Bigband, so they could play it for Finchen's birthday party.
At the end of Sesamstrasse's 40th anniversary episode, Bert, Ernie, Cookie Monster, Wolle, Pferd, Elmo, Wolf, Finchen and Grover sing the song in celebration.
Mother Goose Stories
The Wubbulous World of Dr. Seuss
Dinosaurs