Music by
Patty and Mildred Hill
Lyrics by
traditional
Date
1893
Source
original words were "Good Morning to All"
Publisher
Summy-Birchard Inc.
Warner Chappell Inc.
The classic birthday song "Happy Birthday to You" has been sung by the Muppets on several occasions.
The Muppet Show
Sesame Street
In Episode 0796, Maria sings one line of the song to David after she gives him a typewriter that she repaired especially for him.
In Episode 1316, guests at Maria's surprise birthday party perform the song in English and Spanish.
International Sesame Street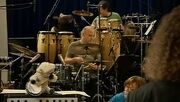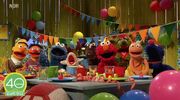 Others
Ad blocker interference detected!
Wikia is a free-to-use site that makes money from advertising. We have a modified experience for viewers using ad blockers

Wikia is not accessible if you've made further modifications. Remove the custom ad blocker rule(s) and the page will load as expected.