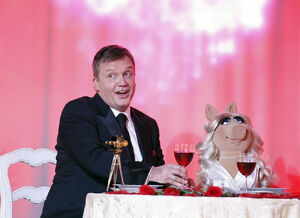 Hans Peter Wilhelm "Hape" Kerkeling (b. 1964) is a German comedian and actor.
On February 4, 2012, he presented the 47th edition of the German film and television award show Verleihung der Goldenen Kamera, awarded by the television magazine HÖRZU and airing on ZDF. Miss Piggy and Kermit the Frog appeared on screen (dubbed), and announced Kerkeling to also be the winner of the golden camera award in the category "HÖRZU Reader's Pick - Best Comedian."
After Piggy karate-chopped Kermit, who was trying to discourage her from hogging the spotlight and singing a duet with Kerkeling, she came out on stage (performed by Eric Jacobson) and sang "Somethin' Stupid" with him.
Also in attendance at the awards were Morgan Freeman, Denzel Washington, Dionne Warwick, Michael Bolton, Nena, Xavier Naidoo, Joko Winterscheidt and Scarlett Johansson.
External links
Ad blocker interference detected!
Wikia is a free-to-use site that makes money from advertising. We have a modified experience for viewers using ad blockers

Wikia is not accessible if you've made further modifications. Remove the custom ad blocker rule(s) and the page will load as expected.