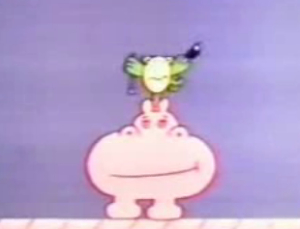 Hansson and Fia Jansson are animated characters created specifically for Svenska Sesam by Swedish animator Owe Gustafson, who also produced segments for the American Sesame Street. Gustafson directed, designed and storyboarded the segments, while Bryan Foster served as the animator.
Hansson, a bowler-hatted parrot (voiced by Peter Harryson), and Fia Jansson, a female hippo, appeared in inserts; some were primarily comedic, while others taught concepts such as numbers. Fia Jansson could often be seen rising from a pool of water, and in the show's intros, roared like MGM's Leo the Lion. The duo were also featured on the cover of the album Svenska Sesam skivan, which included a track entitled "Kanner du Fia Jansson".
Ad blocker interference detected!
Wikia is a free-to-use site that makes money from advertising. We have a modified experience for viewers using ad blockers

Wikia is not accessible if you've made further modifications. Remove the custom ad blocker rule(s) and the page will load as expected.