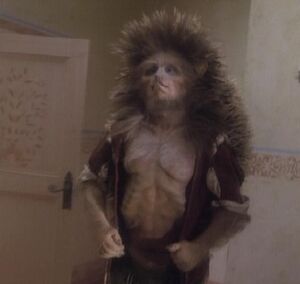 Hans My Hedgehog was the first episode of The StoryTeller, which won many awards - including an Emmy Award.
Synopsis
Hans, a hedgehog-boy, feels ostracized in his town so he runs away. Twenty years later, Hans helps a king lost in the woods find his way back to his kingdom. The king rewards Hans the first thing that the king will see when he re-enters his kingdom. But when the first thing he sees turns out to be his daughter, will despair take hold or can love prevail?
Cast
External links
| | |
| --- | --- |
| Previous episode: | Next episode: |
| none | Fearnot |
Ad blocker interference detected!
Wikia is a free-to-use site that makes money from advertising. We have a modified experience for viewers using ad blockers

Wikia is not accessible if you've made further modifications. Remove the custom ad blocker rule(s) and the page will load as expected.