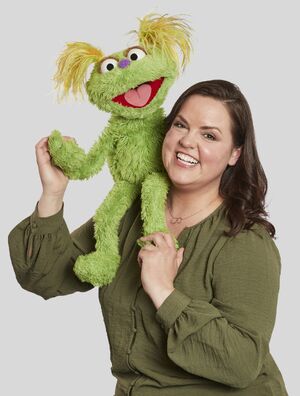 Haley Jenkins (b. January 27, 1987) is a puppeteer and Muppet performer. She has performed on Sesame Street, including being the English-speaking performer of Zari for US press appearances. Jenkins is also the lead performer of Marvie on the Sesame Studios YouTube channel.
Outside of Sesame Street, Jenkins has also served as a puppeteer on Last Week Tonight with John Oliver, The Pee-Wee Herman Show on Broadway, America's Got Talent, and Saturday Night Live.
She is engaged to Paul McGinnis.
Muppeteer Credits
External links
Ad blocker interference detected!
Wikia is a free-to-use site that makes money from advertising. We have a modified experience for viewers using ad blockers

Wikia is not accessible if you've made further modifications. Remove the custom ad blocker rule(s) and the page will load as expected.