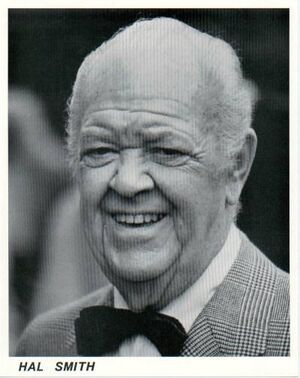 Hal Smith (1916-1994) was an American actor whose voice was familiar in both radio and animation for many years. After serving in World War II, he went and appeared on many TV shows such as The Andy Griffith Show, The Adventures of Ozzie and Harriet, and The Red Skelton Show. He also appeared occasionally in movies, such as Disney's Son of Flubber. He was at his prime in animated voice-overs, however. Notable examples include: Elmer Fudd (after Arthur Q. Bryan's death), Grandfather Josiah in Halloween is Grinch Night, McGillicuddy, Good Fairy-in-Chief and additional voices in Pontoffel Pock, Where Are You?, various characters on The Hoober-Bloob Highway, Huckleberry Hound and The Flintstones, Gyro Gearloose on DuckTales, Goofy in several Disney productions like Mickey's Christmas Carol, Toad in the Frog and Toad series, Philippe the horse in Beauty and the Beast, and Owl in the Winnie the Pooh shorts (later, he took over the voicing of Pooh himself after Sterling Holloway retired). He also did numerous TV commercials.
Smith has done some cartoon voicing on Sesame Street as well. He voiced an elephant, a bear, and an ant in a cartoon about fighting to cross a bridge.
Ad blocker interference detected!
Wikia is a free-to-use site that makes money from advertising. We have a modified experience for viewers using ad blockers

Wikia is not accessible if you've made further modifications. Remove the custom ad blocker rule(s) and the page will load as expected.