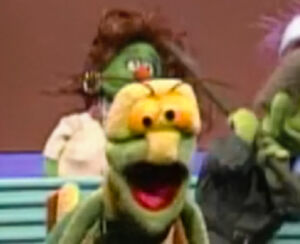 Gus Hopper, an Anything Muppet insect, received his name in a 1990s Sesame Street sketch, (EKA: Episode 3354) where he was performed by Joey Mazzarino. When Bonnie Rabbit refers to him as a "grasshopper," he corrects her in a similar irritated manner as Benny Rabbit does whenever he's called "Bunny". Likewise, Gus also spoke with a rough, scratchy voice vaguely resembling a New Yorker accent.
He made another notable appearance as a cricket (again performed by Mazzarino, but with a Cockney accent) in a Global Grover segment. (First: Episode 4087) In the segment, Grover says that he visited England, where he saw people play cricket. The cricket appears, and repeatedly exclaims "Cricket!" to Grover's dismay.
After the film segment, Grover asks the cricket whether the film clarified what he was talking about. The cricket replies that of course he knew, as he loves the game. He acts as bowler, but frustrates Grover by frequently calling him "guv'nor". Grover tries to correct him, even saying "I have not even held public office!"
The puppet has made sporadic background appearances on the show since 1990, including sketches like "Night Bug Boogie," and an Elmo's World episode about bugs.