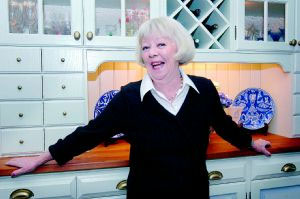 Gunilla Åkesson (b. February 15, 1942) played Primadonnan in Svenska Sesam.
She studied at Calle Flygares theater school, Stockholm, in 1962, and from 1963 to 1966 she attended the theater school in Malmö. She has mainly worked on theater stages around Sweden. Among her credits are Die spanische Fliege that ran on Vasan from 1981 to 1983. In the mid 1980's she was one of Sweden's most popular actresses; everybody wanted to hire her for their projects.
After her close friend Inga Gill passed away in 2000 she hasn't worked much. Her reason for this is that she no longer has the same passion for acting. She lives in the city Västervik, the same city that Magnus Härenstam and other old Swedish actors live in.[1]
External links
Sources