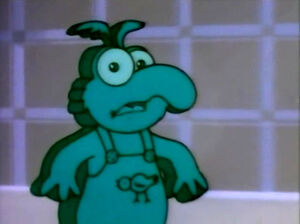 Gumby was a stop motion animation character created by Art Clokey in the early 1950s. After debuting on the Howdy Doody Show, Gumby became the star of his own NBC series in 1957. Additional episodes were created from 1961-1963, 1966-1968 and again in 1988.
Eddie Murphy brought renewed interest to the clay figure with his "impersonation" of the green clay man on Saturday Night Live, and feature length movies, video games, comics and merchandising followed. The Center for Puppetry Arts in Atlanta, Georgia even hosted an exhibition in 2006, "Gumby: Art Clokey - The First Fifty Years."
References
External links
Ad blocker interference detected!
Wikia is a free-to-use site that makes money from advertising. We have a modified experience for viewers using ad blockers

Wikia is not accessible if you've made further modifications. Remove the custom ad blocker rule(s) and the page will load as expected.