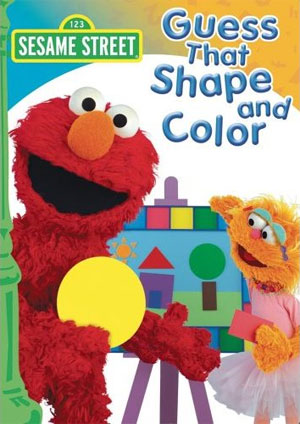 Guess That Shape and Color is a 2006 Sesame Street video, based on the main Street stories from episode 4065 and episode 4085.
Official Product Description
You're invited to play a shapes guessing game with Elmo and Zoe and their friends. From squares and circles to ovals and octagons, shapes are everywhere! But the fun isn't finished yet. It's time for more games as Elmo and Zoe are challenged to find a gorgeous rainbow of fabulous food choices. Can they do it? Can your preschooler help them out? Join everyone's favorite furry monsters in this new video that teaches shapes, colors, and healthy eating.
Segments
DVD Bonus Features
Bonus Game includes Sesame Street clips:
Releases
International releases
Ad blocker interference detected!
Wikia is a free-to-use site that makes money from advertising. We have a modified experience for viewers using ad blockers

Wikia is not accessible if you've made further modifications. Remove the custom ad blocker rule(s) and the page will load as expected.