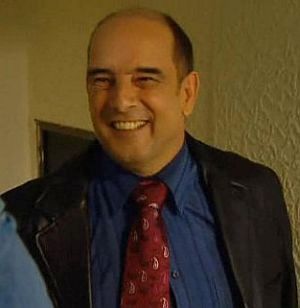 Gudo Hoegel (b. 1948) is a German voice actor who has dubbed Gonzo in every project between 1992 and 2003, Baby Gonzo in Cartoon All-Stars to the Rescue, and one of the Vogons in The Hitchhiker's Guide to the Galaxy. He also dubbed Jasper in 101 Dalmatians.
Hoegel has dubbed Denis Leary in multiple films, Chico Marx in two movies, Mike Myers as Dr. Evil in two Austin Powers movies, Rufus Sewell in Dark City, David Warner in Star Trek V: The Final Frontier, Brian Doyle-Murray in Caddyshack, Tony Shalhoub in A Life Less Ordinary, Liam Neeson in High Spirits, and Dennis Quaid in Johnny Belinda.
Cartoon credits include Earthworm Jim, Darkwing Duck, Skinner in Ratatouille, Ramon in Cars, Ringo Starr on The Simpsons, Blade on Spider-Man, and Gerald on South Park.