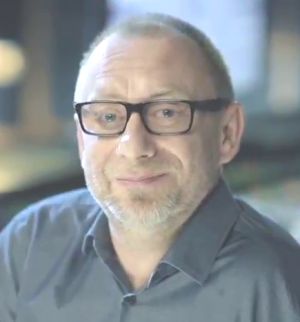 Grzegorz Pawlak (b. 1961) is a Polish voice actor who dubbed Statler and Dr. Teeth in Muppety (The Muppets) and subsequent projects. He has also dubbed Rowlf and Zoot.
Active in Polish dubbing since the 1970s, Pawlak has dubbed cartoon roles including Tigger, Mr. Potatohead in the Toy Story franchise, Skipper in the Madagascar movies and spinoffs, Professor Oak on Pokemon, Mr. Mackey and others on South Park, the newsreel announcer in Up, and Flash in Zootopia.
For live action films, Pawlak dubbed Darth Vader in the original Star Wars trilogy, the March Hare in Tim Burton's Alice in Wonderland, Warwick Davis as Griphook in Harry Potter and the Deathly Hallows: Part II, Ray Winstone in Noah, Christopher Lee in Willy Wonka and the Chocolate Factory, Mandy Patinkin in Wonder, David Hasselhoff in Guardians of the Galazy Vol. 2, and Dennis Quaid in A Dog's Purpose.
Muppet dub credits
External links