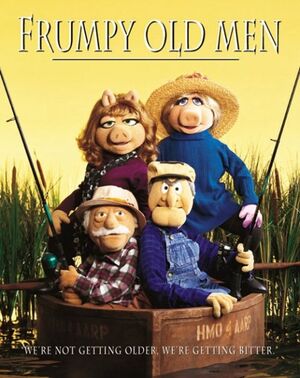 Grumpy Old Men (1993) and its sequel Grumpier Old Men (1995) were a pair of films starring Walter Matthau and Jack Lemmon. The original film follows the feuding adventures of two elderly Minnesota widowers, who have have a long standing rivalry since childhood.
The parody movie poster (entitled "Frumpy Old Men" but actually spoofing Grumpier Old Men) appeared in many Muppet Calendars.
Connections
External links
Ad blocker interference detected!
Wikia is a free-to-use site that makes money from advertising. We have a modified experience for viewers using ad blockers

Wikia is not accessible if you've made further modifications. Remove the custom ad blocker rule(s) and the page will load as expected.