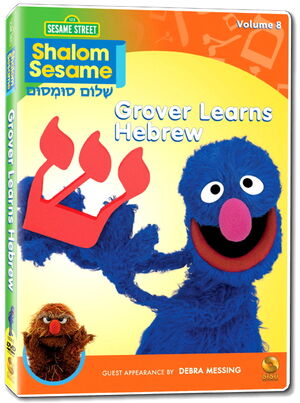 Grover Learns Hebrew is the eighth episode in the 2010 Shalom Sesame revival.
| | | |
| --- | --- | --- |
| " | Join Grover as he learns a lot of new words in Hebrew and is welcomed by the Rechov Sumsum family. Come along and sing the Aleph-Bet song and find out what Grover's favorite Hebrew word is. | " |
Segments
Animation: The story of Eliezer Ben Yehuda's life.
Animation: Hebrew Alphabet Song
Debra Messing explains the Hebrew meaning of her name.
Cartoon: A scene featuring Hebrew onomatopoeia.
Postcard from Grover: Grover talks about Tel Aviv.
DVD Bonus
"Grover's Sing-A-Long"
"Grover's Video Player"