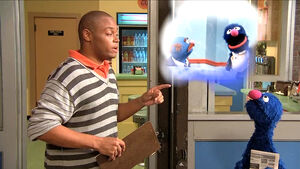 Grover has held a bewildering variety of jobs on Sesame Street, demonstrating a level of determination and ambition that often far exceeds his talents.
Grover's friends celebrated these talents in the "Grover Work Song", composed for the 2004 special A Celebration of Me, Grover. His multitude of jobs was also addressed by Chris in Families Stand Together when Grover browses the "Help Wanted" section of the newspaper. Grover himself has stated many reasons for dozens of jobs, including finding his "niche in life" and on the grounds that "hard work made this country what it is today."
On June 3rd, 2010, Grover tweeted:
"

I have so many jobs because I am a multi-talented monster! I have "the skills to pay the bills!"[1]

"
Sources
External links
Ad blocker interference detected!
Wikia is a free-to-use site that makes money from advertising. We have a modified experience for viewers using ad blockers

Wikia is not accessible if you've made further modifications. Remove the custom ad blocker rule(s) and the page will load as expected.