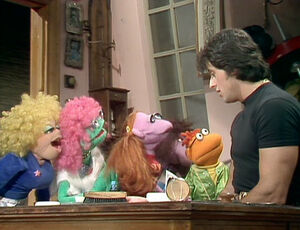 Groupies are fans that follow a celebrity with a stronger passion than casual fans. For touring celebrities, they often follow the object of their obsession to several locations, sometimes more infatuated with the individual(s) than the art for which they are famous.
In The Muppet Show episode 320, Sylvester Stallone has a group of lady Whatnots hanging around Backstage hoping be around Stallone in any way they can. When Kermit tries to get rid of them, Scooter informs him that they're also desperate to see him.
In episode 418, Christopher Reeve laments the fact that most guest stars get groupies, but he gets rats.