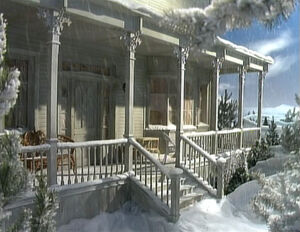 Grizzly Farm is the rural home of Emily Bear in A Muppet Family Christmas. The home where Fozzie Bear grew up, the farm house is now solely occupied by Emily, at least on a normal basis. For the holidays, she rents the house to Doc and Sprocket, with the intention of spending Christmas in Malibu.
Soon an array of Muppet guests arrive, however, completely filling the country home. Since bed space is limited, Gonzo and Animal have to sleep on hangers in the closet and Bert and Ernie will build bunk beds in the broom closet. The spacious kitchen is quickly utilized by the Swedish Chef, and the basement includes a Fraggle hole, connecting to Fraggle Rock.
The precise location of the farmhouse is unclear, although the Sesame Street Muppets are able to make the trek from New York City, apparently on foot. Emily's remembrance of "the blizzard of '41" may place the farmhouse in North Dakota or Minnesota, where a severe blizzard hit in March 1941.
During the winter months, harsh blizzards tend to isolate the house. An additional safety hazard is the icy patch on the front porch.
Photos
Ad blocker interference detected!
Wikia is a free-to-use site that makes money from advertising. We have a modified experience for viewers using ad blockers

Wikia is not accessible if you've made further modifications. Remove the custom ad blocker rule(s) and the page will load as expected.