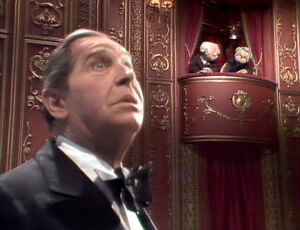 Gregory Peck (1916-2003) was an American actor who appeared in such films as To Kill a Mockingbird, Alfred Hitchcock's Spellbound, The Omen, and different roles in two versions each of Cape Fear (1962 and 1991) and Moby Dick (as Ahab in 1956, and as Father Mapple in the 1998 version with Patrick Stewart).
References
Statler: Hey Berle, you know what? I've just figured out your style.
Milton Berle: Really?
Statler: You work like Gregory Peck.
Milton Berle: I...? Gregory Peck's not a comedian.
Statler: Well?
External links
Ad blocker interference detected!
Wikia is a free-to-use site that makes money from advertising. We have a modified experience for viewers using ad blockers

Wikia is not accessible if you've made further modifications. Remove the custom ad blocker rule(s) and the page will load as expected.