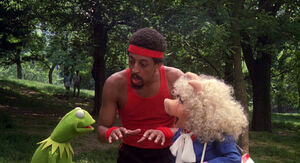 Gregory Hines (1946 - 2003) was an accomplished tap dancer and actor of stage and screen.
He made a cameo appearance in The Muppets Take Manhattan as a roller skater who lends his skates to Miss Piggy and a mediator between she and Kermit the Frog.
He also appeared with his brother, Maurice, in Sesame Street segments where they demonstrate near and far (EKA: Episode 1845) and high kicks (First: Episode 1349). He later appeared in Episode 2949 as "Gregory the Great."
External links