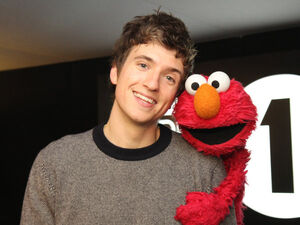 Greg James hosts a three-hour BBC Radio 1 DJ block (interrupted by fifteen minutes of news) in the late afternoon and early evening, playing music and chatting with celebrity guests. Elmo was Greg James' guests on September 6, 2011. James tried to sing the Cee Lo Green song "Forget You" with Elmo, but Elmo quickly got lost. Elmo did successfully sing verses of Katy Perry's "Firework".
James suggests Elmo was his favorite guest, above Perry, Green, and Tom Cruise. Miss Piggy appeared on the program before, and was "quite prickly".
On August 10, 2012, the guests were Elmo and Grover, who joined their host to sing "Call Me Maybe." Video of this segment appeared on the website and BBC Radio 1 YouTube channel. A surprise guest caller was Ricky Gervais who spoke to the Muppets (and Elmo expressed his belief that Gervais is very rich).
External links