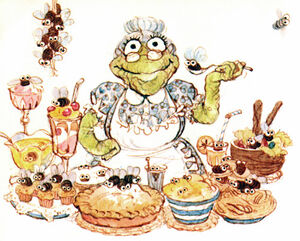 Great-grandmother Toad is remembered in Kermit's Garden of Verses as "the greatest chef of bygone days." Although she comes from a separate species than Kermit, she is written of as his great-grandmother. His poem tells of the thousands of fly recipes she was known for, ranging from fly soufflés to Flies Florentine, and flies with flavored ice to flies with mayonnaise.
Ad blocker interference detected!
Wikia is a free-to-use site that makes money from advertising. We have a modified experience for viewers using ad blockers

Wikia is not accessible if you've made further modifications. Remove the custom ad blocker rule(s) and the page will load as expected.