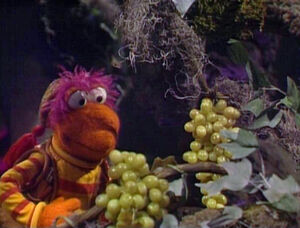 The Grapes of Generosity are magical artifacts which appear when a Fraggle needs to learn how to be generous. They're so delicious that a Fraggle will want to eat them all himself, but if he doesn't share them, he eventually becomes weightless so that everyone can see how selfish he is as punishment. If he is generous again, his weight comes back. They appeared in a third-season episode of Fraggle Rock called "The Grapes of Generosity."
Ad blocker interference detected!
Wikia is a free-to-use site that makes money from advertising. We have a modified experience for viewers using ad blockers

Wikia is not accessible if you've made further modifications. Remove the custom ad blocker rule(s) and the page will load as expected.