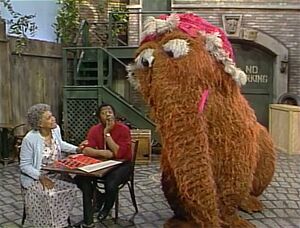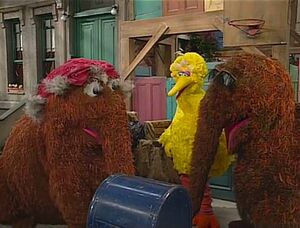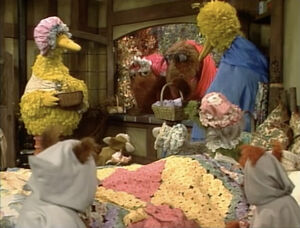 Granny Snuffle is Mr. Snuffleupagus and Alice's grandmother. She lives in Cincinnati, Ohio which is far enough away from the Snuffleupagus family that she needs to take a plane to visit them. She enjoys visiting with her relatives, making cole slaw and spaghetti soup, and singing "Snuffle Off to Buffalo" with her grandchildren. Snuffy goes to visit her in Ohio in Elmo Saves Christmas. It is revealed in episode 3006 that she is Snuffy and Alice's grandmother on their mother's side.
She appeared in episode 2598 (1989), episode 3006 (1992; where she introduces herself as "Snuffle Granny"), episode 3743 (1998), and episode 4013 (2002). She has been performed at various points by David Rudman, Noel MacNeal, and in one appearance, by Jennifer Barnhart (her first time performing on Sesame Street).[1]
Book Appearances
Sources
Ad blocker interference detected!
Wikia is a free-to-use site that makes money from advertising. We have a modified experience for viewers using ad blockers

Wikia is not accessible if you've made further modifications. Remove the custom ad blocker rule(s) and the page will load as expected.