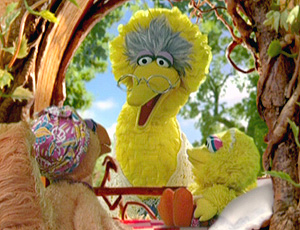 Granny Bird is Big Bird's grandmother. She is almost identical in appearance to her grandson except for her clothes, the gray feathers in her forehead, faded eyelids, and eyeglasses.
The puppet used for Granny Bird is a spare Big Bird puppet, and Caroll Spinney provides her voice. As Granny Bird's appearances are often alongside Big Bird, her voice is usually pre-recorded so that Spinney can perform Big Bird.
Granny Bird lives deep in the woods, at 12 Forest Road. [1] She also has a beach house. [2]
Big Bird has referenced "my grandmother" on Zhima Jie: Da Niao Kan Shijie, a Chinese co-production.
Episodes
Other appearances
Book appearances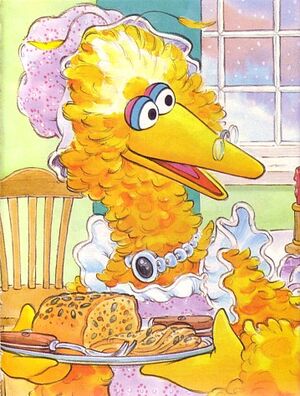 Granny Bird makes a substantial appearance in the 1989 Little Golden Book I Can't Wait Until Christmas. In illustrated form, Granny Bird loses her gray feathers and subsequently looks even more like Big Bird, although she does sport a pair of pince-nez eyeglasses.
See also
Sources
↑ Sesame Street, episode 3006, 1992. Big Bird also visits Granny Bird at a house that appears to be out in the country in the 1988 storybook Nothing to Do.
↑ I Want to Go Home!, 1985.
External links