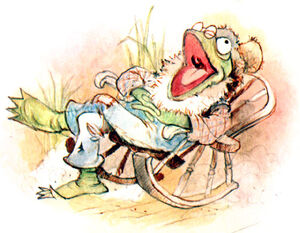 Grandfather Frog is written about by Kermit in his Garden of Verses book. As illustrated by Bruce McNally, the grandfather appears to be an older version of Kermit with glasses, a white beard, and circlular pupils instead of Kermit's signature shape. He wears overalls, a plaid shirt and a straw hat. His poem tells of his younger days when he could catch flies with the flick of his tongue. But now that he's old, he just sits in his rocking chair with his mouth wide open and hopes that the flies will make their own way in.
Ad blocker interference detected!
Wikia is a free-to-use site that makes money from advertising. We have a modified experience for viewers using ad blockers

Wikia is not accessible if you've made further modifications. Remove the custom ad blocker rule(s) and the page will load as expected.