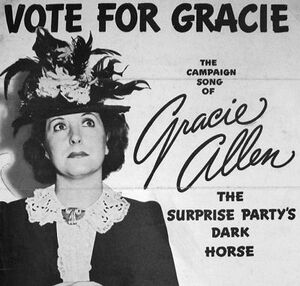 Gracie Allen (1895-1964) was a comedic actress and half of a long-running comedy team with husband George Burns. She teamed with Burns in vaudeville, on radio (1932-1950), in fourteen feature films (between 1932 and 1939), and on television (1950-1958, when Allen retired). Cultivating the persona of a scatterbrained chatterbox possessing a unique sense of logic, Gracie Allen became so popular that, in 1934, their series was titled The Adventures of Gracie.
Allen was also at the center of high-profile publicity stunts, spilling over multiple radio shows and into the public spotlight in general: her search for her missing brother in 1933 (crossing over on various shows, including dramas) and her run for President in 1940. She also found herself the subject of the Philo Vance novel The Gracie Allen Murder Case, playing herself (minus George) in the 1939 film version.
References
Ad blocker interference detected!
Wikia is a free-to-use site that makes money from advertising. We have a modified experience for viewers using ad blockers

Wikia is not accessible if you've made further modifications. Remove the custom ad blocker rule(s) and the page will load as expected.