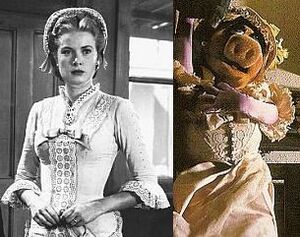 Grace Kelly (1929-1982) was an Academy Award-winning actress known for her work in several iconic Hollywood movies from the 1950s. Her cinematic breakthrough came as Gary Cooper's tense bride in High Noon, followed by the female leads in Hitchcock's Dial M for Murder, Rear Window, and To Catch a Thief. Other notable films from her brief but significant movie days include High Society, The Bridges at Toko-Ri, and The Country Girl (for which she won the Oscar for Best Actress).
In 1956, Kelly married Prince Rainier III of Monaco, thus becoming Princess Grace and leaving her acting career aside.
References
Ad blocker interference detected!
Wikia is a free-to-use site that makes money from advertising. We have a modified experience for viewers using ad blockers

Wikia is not accessible if you've made further modifications. Remove the custom ad blocker rule(s) and the page will load as expected.