Gorgon Heap
Talk

4
27,706pages on
this wiki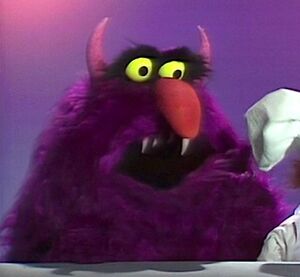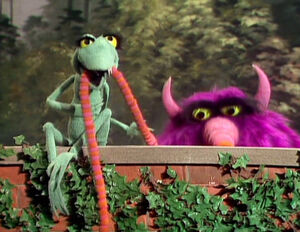 Gorgon Heap was a purple Muppet Monster who was featured in the first three seasons of The Muppet Show, most frequently while he was eating other Muppets.Although he appeared as early as The Muppet Show: Sex and Violence pilot, he was not named until the culinary-themed Panel Discussion in episode 119, in which Vincent Price introduced him as "one of the world's greatest eaters." He proceeded to eat Pierre LaCousse, one of the world's greatest chefs, before starting in on Kermit.Gorgon Heap is unique among the monsters in that he has appeared as both a Full-Bodied Muppet and a Live-Hand Muppet.He also played the role of Fielding the Butler in "Sherlock Holmes and the Case of the Disappearing Clues", the UK Spot in episode 103 (in which he ate almost everything, including the maid and Dr. Watson).Gorgon Heap has been performed by various Muppeteers, including:Frank Oz (Episodes 103 and 204)
Although Gorgon appeared primarily during the first two seasons of The Muppet Show, he made one appearance in the third season as a drummer in episode 318.
His looks often changed between episodes. Sometimes the horns on his head were left off or replaced with ears instead, and in episode 204, he was given an elongated, worm-like nose for the "Inchworm" sketch.
This character seems to have developed from Big V, a similar character from Muppet variety show acts in the 1960s.
Filmography
Book Appearances