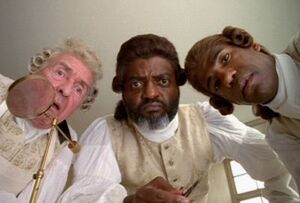 Gordon Sterne (b. 1923) is a British actor who played one of the Brobdignagian scientists in Gulliver's Travels.
Active in film and television since the 1950s, Sterne played small guest roles in such British sci-fi/adventure series as The Prisoner, The Saint, Doctor Who, The New Avengers, and UFO, as well as the comedies Hancock's Half Hour and Jeeves & Wooster. In film, he played Mr. Kessler in An American Werewolf in London, slain in the protagonists' dream while watching The Muppet Show. Other film credits include Highlander, The Razor's Edge, and Laws of Attraction (with Pierce Brosnan and Julianne Moore).
External links
Ad blocker interference detected!
Wikia is a free-to-use site that makes money from advertising. We have a modified experience for viewers using ad blockers

Wikia is not accessible if you've made further modifications. Remove the custom ad blocker rule(s) and the page will load as expected.