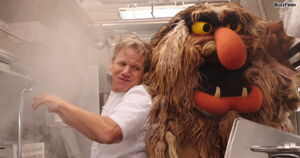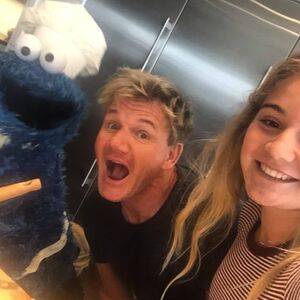 Gordon Ramsay (b. 1966) is a Scottish chef, restaurateur and television presenter who hosts such series as Hell's Kitchen (UK and USA),  Kitchen Nightmares (UK and USA), and MasterChef (USA). He is known for his outspoken and often profane criticisms of contestants.
Ramsay appeared as himself in the Muppisode "Food Fight", competing against the Swedish Chef in a cook-off and presenting his trademark brand of criticism to his assistant Sweetums.
On August 8th, 2015, Ramsay posted a picture of he and Cookie Monster on his Facebook page.
External links
Ad blocker interference detected!
Wikia is a free-to-use site that makes money from advertising. We have a modified experience for viewers using ad blockers

Wikia is not accessible if you've made further modifications. Remove the custom ad blocker rule(s) and the page will load as expected.