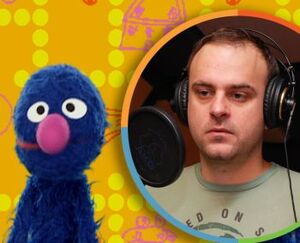 Goran Malus (b. 1974) is a Croatian actor, who dubs Grover for Ulica Sezam.
Other roles include Ivic on Bumerang, a reporter in the dub of Coronation Street, and dubbing Squidward on SpongeBob SquarePants. On stage, he's played parts in local adaptations of The Full Monty, Little Shop of Horrors, and Midsummer Nights Dream. He has also lent his voice to radio-based games for children.
See also
Ad blocker interference detected!
Wikia is a free-to-use site that makes money from advertising. We have a modified experience for viewers using ad blockers

Wikia is not accessible if you've made further modifications. Remove the custom ad blocker rule(s) and the page will load as expected.