Goodtime Goombah Soup
Talk

0
26,854pages on
this wiki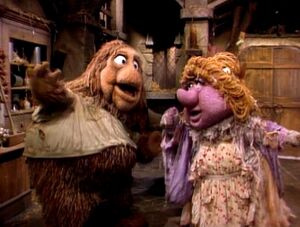 "Goodtime Goombah Soup" is a song Ma Gorg sings when explaining to Junior Gorg about how to make soup. The song appears in the third season Fraggle Rock episode "Blanket of Snow, Blanket of Woe".
Known ingredients of the soup include green beans, beebleberries, dried lulu blossoms, frozen radishes, salt and pepper.
Mokey gets the Gorgs to defrost the Trash Heap with the soup by posing as a pepper shaker and slipping in some greaseberry seeds, which make soup taste awful.
The song is later resung in the Fraggle Rock episode "Ambassador Gorg" when the Gorgs prepare a dinner for the "enemy."