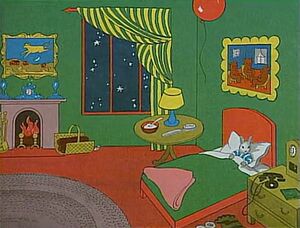 Goodnight Moon is a 1947 children's book by Margaret Wise Brown and illustrated by Clement Hurd. The book has remained in print and is recognized as a classic, describing a bunny child's bedtime routine of saying goodnight to every object he can see.
References
Luis tells it to "baby" Elmo from memory in episode 3160 (1993). He memorized it because it was the book he'd read to put Gabi to sleep.
For the closing sponsor tag in episode 4137 (2007), Oscar reads Scram Moon to Slimey. Gordon voices the Moon (who has his trademark mustache).