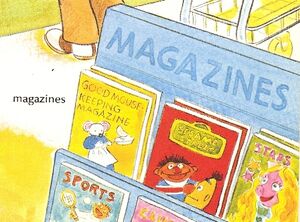 Good Housekeeping is a women's magazine which was founded in 1885 by Clark W. Bryan. The magazine features articles about diets, women's lifestyles, health, recipes, and more. It is also known for its "Good Housekeeping Seal".
In celebration of its 125th anniversary, the magazine hosted the Good Housekeeping Shine On Event, which celebrated "125 Years of Women Making Their Mark." The magazine also featured a special issue dedicated to the "125 Women Who Changed Our World." Among those women featured in the May 2010 issue of the publication were Children's Television Workshop founder Joan Ganz Cooney. Other women included in the breakdown were Oprah Winfrey, Hillary Clinton, Michelle Obama, Princess Diana, Murphy Brown, Mary Richards, Barbie, Lucille Ball, Annie Oakley, Beverly Sills, Meryl Streep, Martha Stewart, Sandra Day O'Connor, Barbara Walters, and Katie Couric.
References
Ad blocker interference detected!
Wikia is a free-to-use site that makes money from advertising. We have a modified experience for viewers using ad blockers

Wikia is not accessible if you've made further modifications. Remove the custom ad blocker rule(s) and the page will load as expected.