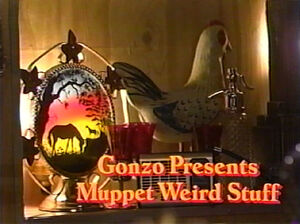 Gonzo Presents Muppet Weird Stuff was released by Playhouse Video in 1985, as part of a series of compilations featuring songs and sketches from The Muppet Show.
In this one hour special, Gonzo pays tribute to the weirdest acts from The Muppet Show, and tries to hide the fact that he's hosting from the inside of a trailer instead of a posh mansion. Camilla the Chicken co-hosts with Gonzo, while Kermit the Frog makes a visit.
Muppet Show guest appearances include Jean Stapleton, Dom DeLuise, John Cleese, Vincent Price, Julie Andrews and Madeline Kahn.
This is the only video in the Playhouse Video series to feature clips from the Muppet movies.

Picture
Segment
Description
Source




Frame

Gonzo presentes The Muppet Show's greatest artistic masterpieces from inside his villa.
Original material

Song

"All of Me"
Episode 108: Paul Williams




Episode fragments

Gonzo catches a cannonball:




Gonzo's Cannonball Act
John Cleese tries to get Gonzo back to normal

Episode 223: John Cleese

Song

"Hugga Wugga"
Episode 118: Phyllis Diller

Sketch

Muppet Labs: Exploding Clothes
Episode 118: Phyllis Diller

Sketch

Kermit interviews the Koozebanian Phoob
Episode 205: Judy Collins

Sketch

Gonzo and his dancing chicken, Lolita
Episode 204: Rich Little

Song

"You Do Something to Me"
Episode 112: Peter Ustinov

Sketch

Gonzo wrestles a brick blindfolded
At the end, Gonzo's line "You promised me a wilterweight brick!", spoken in the backstage scene that originally followed this sketch, is dubbed at the end of the clip.
Episode 207: Edgar Bergen

Sketch

Bird in cage
Episode 206: Nancy Walker

Song

"I'm Just Wild About Harry" with Jean Stapleton and Crazy Harry
Episode 306: Jean Stapleton

Sketch

"Jabberwocky" with Scooter and Rowlf
Episode 506: Brooke Shields

Episode fragments

Gonzo talks to Kermit about his dancing cheese
"Gonzoles and Yolanda"

Episode 208: Steve Martin

Song

"I Feel Pretty"
The beginning, with the singer singing a few bars of "Tonight", is cut.
Episode 109: Charles Aznavour




Episode fragments

*Gonzo plays "Eine Kleine Nachtmusik" on the bagpipes while sitting on a flagpole

Gonzo meets a cow backstage

Episode 217: Julie Andrews

Song

"Won't Somebody Dance with Me" with Gonzo
Episode 217: Julie Andrews

Sketch

Dom DeLuise visits Planet Koozebane and encounters Merdlidops
Episode 211: Dom DeLuise

Song

"I've Got You Under My Skin"
Episode 119: Vincent Price

Sketch

Gonzo hypnotizes himself into holding a 5000-pound weight
Episode 324: Cheryl Ladd

Song

"You've Got a Friend" with Vincent Price, Uncle Deadly, and the monsters
Episode 119: Vincent Price

Sketch

Gonzo eats a tire to the tune of "Flight of the Bumblebee"
Episode 101: Juliet Prowse

Sketch

Gonzo hangs his nose on a feather boa
Audio of the audience booing, from the previous clip, is added to the beginning of this clip.
Episode 222: Teresa Brewer

Movie scene

Gonzo holds onto balloons
This clip is heavily edited to primarily focus on Gonzo.
The Muppet Movie

Sketch

Gonzo holds a piano on one hand while multiplying the number seven
Episode 301: Kris Kristofferson & Rita Coolidge

Movie scene

Gonzo jumps in front of a taxi
The Great Muppet Caper

Sketch

Gonzo conducts Liebesträume and battles a crab
Episode 504: Shirley Bassey

Movie scene

Gonzo's waterskiing act
This clip is edited, removing the part with Gonzo asking Margaret if she's ready.
The Muppets Take Manhattan

Sketch

Gonzo accidently shoots Kermit and Miss Piggy from a catapult
Episode 410: Kenny Rogers

Song

"Wishing Song" with Gonzo and Madeline Kahn
Episode 209: Madeline Kahn

Sketch

Trumpet-Nosed fazoob and Ball Shooter perform "Isn't This a Lovely Day"
Episode 504: Shirley Bassey

Sketch

Talk Spot: Julie Andrews
Episode 217: Julie Andrews

Sketch

Koozebanian Mating Ritual
Episode 107: Florence Henderson

Song

"Muppera" opera number
Episode 409: Beverly Sills




End Credits

After Gonzo signs off, he and Camilla make out offscreen as the credits roll over a shot of a lava lamp.
Original material

Episode fragment

After the credits, Gonzo is seen inviting the cow out for either a movie or a steak.
Episode 217: Julie Andrews
Ad blocker interference detected!
Wikia is a free-to-use site that makes money from advertising. We have a modified experience for viewers using ad blockers

Wikia is not accessible if you've made further modifications. Remove the custom ad blocker rule(s) and the page will load as expected.