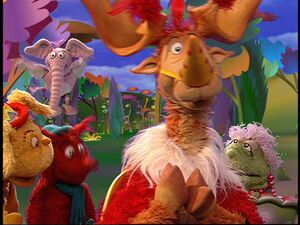 "Going to Katroo" is a sung by Mr. Knox, Fox in Socks, Morton the Elephant Bird and Fiona Phish in The Wubbulous World of Dr. Seuss episode "The Birthday Moose.".
The group sing about how they are heading to Katroo to and all the stuff they are going to get to see and do while they are there. Thidwick the Big-Hearted Moose imitates the famous yodel and laugh of the Birthday Bird.
Ad blocker interference detected!
Wikia is a free-to-use site that makes money from advertising. We have a modified experience for viewers using ad blockers

Wikia is not accessible if you've made further modifications. Remove the custom ad blocker rule(s) and the page will load as expected.