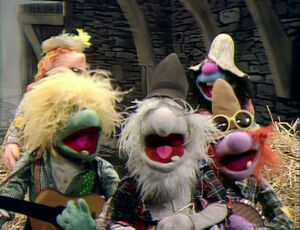 Gogalala is a fictional hamlet in Louisiana, as mentioned in The Muppet Musicians of Bremen. Though never depicted, Leroy the Donkey dreams of someday performing as a musician in the big cities like Gogalala or Bremen. Considering the backwoods farms from which Leroy and his fellow musicians escaped, the size and potential urban splendour of Gogalala is likely relative.
Years later, The Muppet Show featured a Louisiana-style musical aggregation called The Gogolala Jubilee Jugband, who performed "Mississippi Mud".
Ad blocker interference detected!
Wikia is a free-to-use site that makes money from advertising. We have a modified experience for viewers using ad blockers

Wikia is not accessible if you've made further modifications. Remove the custom ad blocker rule(s) and the page will load as expected.