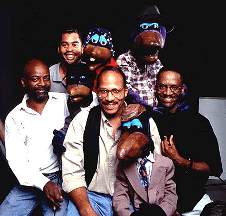 Glenngo King served as an additional performer on Muppets Take Manhattan, and also puppeteered on the non-Henson film Key Exchange.
King has also worked as a principal puppeteer with the Brewery Troupe, a New York puppet troupe founded by Brad Brewer. (Brewer has also worked with the Muppets, performing Rodney in the 1988 video Neat Stuff To Know & To Do.) King performed the character of Fast Eddie in "the Crowtations", a quartet of singing birds.[1]
Sources
↑ "Innovative Lives: Meet the Brewery Troupe", Smithsonian.org. March 24, 1999.
Ad blocker interference detected!
Wikia is a free-to-use site that makes money from advertising. We have a modified experience for viewers using ad blockers

Wikia is not accessible if you've made further modifications. Remove the custom ad blocker rule(s) and the page will load as expected.