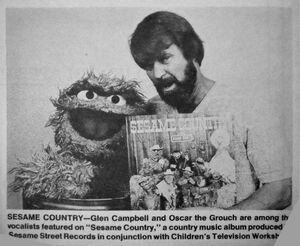 Glen Campbell (1936-2017) was a Grammy winning, Golden Globe and Academy Award nominated country music recording artist who played with many other stars in the pop and rock fields over the years. Over his career, he dueted with Anne Murray, Tanya Tucker, and Mel Tillis, and scored one of his biggest hits with "Rhinestone Cowboy".
He sang "Keep on Smilin'" with Oscar the Grouch on the 1981 album Sesame Country.
External links
Ad blocker interference detected!
Wikia is a free-to-use site that makes money from advertising. We have a modified experience for viewers using ad blockers

Wikia is not accessible if you've made further modifications. Remove the custom ad blocker rule(s) and the page will load as expected.